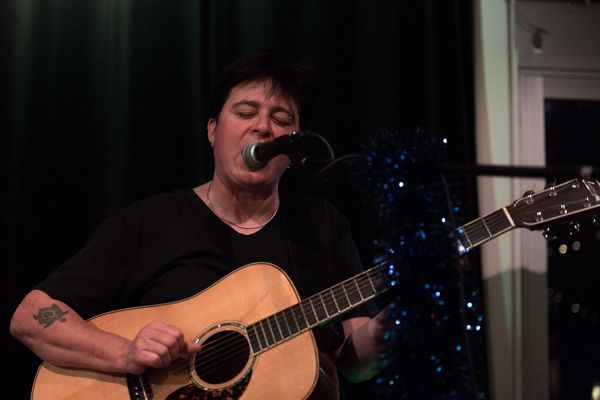 Halloween-time again ?
Not keeping up with my hope of blogging on a monthly basis! A few thoughts as November is almost here and the year moves into its final phase.  2018 has been a year of consolidation and of doing some different things for me.  There have been some great highlights including gigs with Hayley Anderson (violin) and Catherine Golden (double bass), as well as gigs shared with singer-songwriter collaborators Dean Lombard and Tracey Roberts.  The Sacrededge festival at Queenscliff Uniting Church in May was a new experience, and it was wonderful to be immersed in festival energy again and sharing the weekend with longtime friends as well as connecting with many new people in this environment focused on social justice and celebration of difference.  Somehow in the spaces I have written four songs and have built up some more YouTube clips.  In July I was honoured to take part in a memorial event for singer-songwriter Janette Geri at the Skylark Room in Upwey, organised by singer-songwriter Michelle Chandler.  Janette, who passed away late in June, recorded my 2008 CD Sitting On Saturna and was one of the first singer-songwriters I heard in Melbourne, back in the days of the old-style folk/acoustic cafes including the Green Man and the Green Lantern.  A week later I set off for NYC and New York State, where I was privileged to spend a week at SummerSongs, a songwriting retreat that takes place annually at Stony Point in the Hudson Valley, begun by the late Penny Nichols, a singer-songwriter and teacher active on both coasts of the US.  I was immersed in a supportive environment with a wonderful team including singer-songwriter/tutors Sloan Wainwright, Cosy Sheridan and David Roth.  This is the most intensive time I have spent in a songwriting environment since my retreat in 2006 with Canadian singer-songwriter Ferron, and I emerged with new resources for the journey and made many new friends, including Brooklyn-based Pete Sturman (@petesturman on Twitter) with whom I now have a two-way song covering arrangement - Pete will perform one of my songs at an event in Manhattan in November, while I gave one of Pete's songs an Australian premiere at Folk Alley Cafe in St Andrews early in October. Composition highlights in 2018 have included performances of my works Land, Sea, Sky and Ground Thunder Returns at the Joan Sutherland Centre in Penrith, Western Sydney, by the Penrith Symphony Orchestra (in partnership with Western Sydney University) and Daniel Thorpe/Catherine Golden (as part of Secrets Through A Soundglass, project of Sean Botha), and the October performance of Ground Thunder Returns by Catherine Golden (double bass) and myself as pianist at the Melbourne Composers' League's Elbow Room Mini-Festival at Montsalvat, Eltham. Still ahead, a second performance of my work Eileen's Vision (text by Eileen Myles) by Sydney percussionist Kaylie Dunstan, for who more it was written, is an unexpected late year highlight. The program looks great (see gigs) - thanks so much Kaylie!
Travel well
Christina
*****
Halloween-time ?
Keeping up with my hope of blogging on a monthly basis! An update on travels and gigs follows, with some of the happenings mentioned in the previous post (4/9/17) still in progress and moving through.
The Central Coast Ukulele festival in September was great fun, and it was a pleasure to meet members of the club while attending performances and workshops. My own set at the Diggers RSL, including a couple of songs in which audience/jam participants joined in, went well. Mild weather and time by the sea were very welcome after months of Melbourne winter.
At the very end of September I enjoyed playing at one of the year's most delightful venues so far, the Blue Bean Love Café in Hepburn Springs. This was the final official launch gig for Some Days/Life I Can Live, and we played to an appreciative audience in this wood fire-warmed room. My thanks go to Vanessa Craven and her band Lunar Dust (Don Gula and Andy Barcham), who have been a great support at my CD launch gigs from May through to this gig. Thanks are also due to Hayley Anderson, who has absorbed new violin parts to build the set (both for this gig and for our support slot for Dean Lombard's CD launch in late August at the Brunswick Hotel), and whose versatility is enabling a little revival of some of the songs from my folk/punk CD of 2004, Mindless Fun – we are relishing the chance to bring out the effects pedals and turn up the volume a little bit on these songs which are going down well with audiences.
It has been fantastic to spend much of October in the UK, and, while there, to catch up with friends and collaborators Walki Freedreamer, Keith Bray and Peter Beverley. I enjoyed hearing Walki (Walki's Monster - https://walkismonster.bandcamp.com) perform at Jam Live Twenty Five at the Bedford in Balham, in amongst a great variety of acts with music including blues, reggae and some choral stuff. This concert was a celebration of 25 years of the awesome work of Sound Minds: the arts for mental health – a project in South West London (http://www.soundminds.co.uk). It has also been a pleasure to work with Walki through the month on an interview about my whole career as a singer-songwriter that is to be published in a music 'zine produced by members of UK Mensa and linked to the blog maintained by Walki on LiveJournal where it will be available to read – more details to follow on this.
I was delighted to be able to hear Loose Moods (https://www.facebook.com/loosemoods), the current band of Keith Bray and Peter Beverley, at a gig at the King Charles I, a fabulously real deal pub with intimate performance space near Kings Cross, and to do a set as their guest on the evening. Keith and Peter performed a range of songs across jazz/blues/folk with effects, with their bass player Lucy Panbocch.
While on the road I received news that a song entered in the Roddy Read Song Writing Awards at the Maldon Festival has been shortlisted, and I am looking forward to performing the song in the final, which will take place at the Neighbourhood Centre, 1 Church Street Maldon, on Saturday 4th November (12:00pm start, free entry). Always up for a Central Vic. jaunt, I look forward to hearing the songs of several friends in the final as well as others, and to connecting with the music and vibe at the festival.
I am beginning to look at recordings in progress and to think through next steps. I am also looking forward to two shared gigs, the first with Dean Lombard (Sunday 12th November) and the second with Ellen Mary Fish (Sunday 19th November) – see Shows - and enjoying working up some new covers and polishing a couple of new things for their first outings.
Travel well
Christina
September 4, 2017 
Mid-year thoughts 2017 
I am regrouping a bit after a full first half of the year. It has been wonderful to complete and launch my double CD Some Days/Life I Can Live, four years in the making and a couple decades in the writing! With 14 tracks each (12 songs/2 instrumentals) the two groups of songs are balanced, together creating a satisfying document of travels, experiences and observations. It has been a pleasure to do a set of launch gigs in Melbourne, Ballarat and Hepburn Springs, Vic., accompanied by various collaborators including Peter Anderson (accordion), Tracey Roberts (keyboard - Trace also did the fabulous CD artwork), Hayley Anderson (violinist with metal/folk/classical chops), Louise Godwin (cello, also classical and folk), Sue Carr Amico (accordion) and Rachel Nendick (alto sax). A couple of tracks also feature Miranda Hill on double bass (most of the bass was done by myself on electric). I was also joined and supported by Vanessa Craven and her band Lunar Dust from Central Vic., and feel blessed by their gift of energy and presence through my launch - looking forward to performing again with them in Hepburn Springs, Blue Bean Love Café, Hepburn Sep. 29 (6-8pm, acc. by Hayley Anderson). I am indebted to the late Hugh McDonald for his staying power through three years of recording, and to Brian Baker for picking up the project and helping me take it to completion with last additions and mixing after Hugh passed away in November 2016. 
As we move into the final third of the year I am pushing to write two composed pieces for performances at the Dame Joan Sutherland Centre in Penrith, NSW, in the first months of 2018. It is an honour to have been given the chance to write a commissioned work for the Penrith Symphony Orchestra, and this piece for string orchestra will be my first orchestral work since Free! in 2008.  I am also looking forward to the release of the Melbourne Composers' League's forthcoming triple CD compilation, which includes 4 of the 6 movements of my piano suite Sighting Silence, Sounding Image (2012-2013, also recorded by Hugh McDonald) at the MCL's November Elbow Room concert at Wesley Anne in November (see gigs).
Looking to next recording dreams ... meanwhile gigging and looking forward to playing at the Central Coast Ukulele Festival on 23/9 - at this point in my career this appears to be my first interstate festival outside the university context. I am augmenting my set of songs written on ukulele since I first began work on it in 2011 (ukulele songs feature on the second CD, Life I Can Live) with a few reworkings of songs that are going really well on the instrument - there are a few that I am able to give a new airing this way, including some older but still good material written with weird guitar tunings etc., making most of my repertoire manageable on standard-tuned guitar and tenor uke, which is a very good combo for a gig, I say. Gigs will go up here and are already on my website https://www.christinagreen.net, where set-up for online CD sales is underway, with Some Days/Life I Can Live now available there. 
Wishing you happy trails, and looking forward to writing more soon, along the way. 
Christina